[Best_Wordpress_Gallery gallery_type="thumbnails" theme_id="1″ gallery_id="16″ sort_by="order" order_by="asc" show_search_box="0″ search_box_width="180″ image_column_number="3″ images_per_page="30″ image_title="none" image_enable_page="0″ thumb_width="315″ thumb_height="200″ popup_fullscreen="0″ popup_autoplay="0″ popup_width="800″ popup_height="500″ popup_effect="none" popup_interval="5″ popup_enable_filmstrip="1″ popup_filmstrip_height="50″ popup_enable_ctrl_btn="1″ popup_enable_fullscreen="1″ popup_enable_info="1″ popup_enable_comment="1″ popup_enable_facebook="1″ popup_enable_twitter="1″ popup_enable_google="1″ popup_enable_pinterest="0″ popup_enable_tumblr="0″ watermark_type="none" watermark_link="0″]
Technical Specifications
| | |
| --- | --- |
| HS Code | 8509.80-9000 |
| Materials | ABS/PC/PE |
| Lamp | CCFL (Ultra VioletRay+Ozone) |
| Lamp life | 20,000hrs |
| Power source | 2 batteries (AA 1.5v) |
| Operating Lamp | -20 ~ 60 degrees F |
| Country of origin | Korea |
Size and Weight
Item

Dimension
216 x 52 x 26 mm
Weight
0.112kg
Item in packaging

Dimension
216 x 52 x 26 mm
Weight
0.134kg
Shipping Cartons
Carton

Qty/Ctn
100 pcs/ctn
Weight
G.W.: 14.13 kg, N.W.: 14 kg
Dimension
55cm x 29cm x 24cm
Volume
0.03828cbm
Quantity per container

20′ container
71,000 pcs
Certificates
Descriptions
We have this pot plant-like design because we have noticed that people are getting more and more consious of dental health.
PotPlantilizer thus helps toothbrush maintain hygienic condition all the time by powerful germicidal action of removing 25 thousand bacteria including salmonella, E.coli and staphylococcus using UV and Ozone.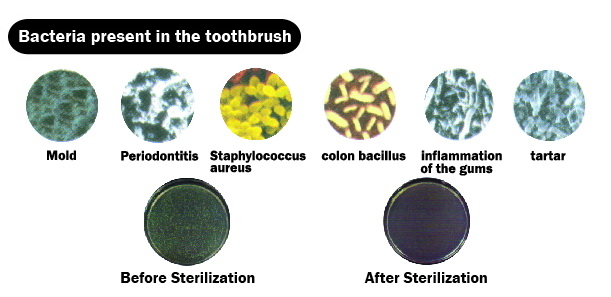 Toothbrush holder
Toothbrush is directed towards lamp, assuring outstanding sterilizing power than any other toothbrush sterilizers.
Leaf-like handle
To ensure the UV ray precisely scan the toothbrush thoroughly, a leaf-like holder is desgined to keep the toothbrush in position.
Dust cover
A dust cover is provided, and the leaf holder and the white-coloured tray inside is detachable for easy cleaning.
USB cable
Use USB cable for convenient recharge.
Selection of colour
Consumers can choose their favourite colour and make their bathroom a lot more colourful.
Slip-resistant
It is an important feature for bathroom product.
Raising awareness of dental health
Toothbrush cleaniness and maintenance is also essential for good dental health.
Available colours:
Red, Blue, Yellow, Orange, Green